DriDanube - Drought Risk in the Danube Region

Project News and Events
15 April 2019
The final Hungarian DriDanube event, the National Drought Seminar was held on 15 April 2019 at OMSZ in Budapest.

Read more
4 April 2019
DriDanube news about Danube Drought Risk Assessment

Here you can freely download the R E D software package which is developed by Tamás Szentimrey (Varimax Bt) to common drought risk assessment of DriDanube countries.
Read more
29 March 2019
Invitation: DriDanube National Drought Seminar which will take place on 15 April 2019 at OMSZ in Budapest, Hungary


12 December, 2018
DriDanube national training and consultation about optimal drought management was held on 3 December, 2018 at OMSZ in Budapest, Hungary

Read more
13 November, 2018
Invitation: DriDanube national training and consultation with stakeholders about optimal drought management on 3 December, 2018 at OMSZ

Read more
6 November, 2018
Training course on drought risk assessment
6–8 November, 2018 Budapest, Hungary
Organizers: Hungarian Meteorological Service (OMSZ) and Disaster Risk Management Knowledge Center (DRMKC) of the European Commission

Read more
4 November, 2018
DriDanube - regional training on drought risk and impact assesment
10-12 October, 2018 Bucarest, Romania

Read more
12 July 2018
Invitation and Guide for Hungarian DriDanube Reporting Network
Read more
17 June 2018
DriDanube Drought Watch 2018 section started in June 2018, where you can follow development of drought in the Danube region. The bi-weekly Regional Drought Bulletin you can reach on this link:

Read more
May 2018
Subscribe to project newsletter
Read more
28 May 2018
DriDanube - National reporting networks
Read more
09 April 2018
DriDanube - Let's talk about drought
Read more
05 October 2017
DriDanube - WHY, HOW and WHAT we do
Read more
03 October 2017
DriDanube - Drought User Service - an innovative tool for drought management
Read more
19 June 2017
Hungarian DriDanube National Briefing Seminar was held on 12th June 2017 in Budapest, Hungary.
Read more
19 May 2017
National Briefing Seminars held in 10 partner country in May and July 2017
Read more
07 February 2017
The Kick-off event of Drought Risk in the Danube Region (DriDanube) project take place on 16 March 2017 in Ljubljana, Slovenia
Read more
Introduction
Water scarcity and droughts hit the Danube region frequently and have had large impacts on the economy and welfare of the people. Despite damages in last decades, drought is still not considered as an issue of high priority and people are not aware of its impacts. The main objective of DriDanube project is to increase the capacity of the Danube region to manage drought related risks. The project aims at helping all stakeholders involved in drought management become more efficient during drought emergency response and prepare better for the next drought.
From reactive to proactive drought management
Currently the drought management is reactive, dealing mainly with losses and damages, cooperation between key actors is missing and formal legislation mostly does not exist. Proactive approach on the other hand counts on drought prevention, mitigation, vulnerability reduction, planning and preparedness. Focus hence shifts from recovery to protection, i.e. from crisis management to risk management.
Expected outcomes
One of the main products of the project will be Drought User Service, which will enable more accurate and efficient drought monitoring and timely early warning. The service will integrate all the available data, including large volume of the most recent remote sensing products.
DriDanube will harmonize the currently heterogeneous methodologies for risk and impact assessments, based on the existing achievements in participating countries and on EU guidelines in the frame of the Civil Protection Mechanism.
The current slow reactions during drought will be sped up with the improved decision-making process in all parts of the drought management cycle (monitoring–impact assessment–response–recovery–preparedness) which will strengthen capacities of the stakeholders (policy, professional, end users) at different levels. This will lead to an increased culture of preparedness throughout the Danube region.
DriDanube's main expected result is improved drought emergency response and better cooperation among operational services and decision making authorities in a Danube region on national and regional level.
General information
Start date: 01-01-2017
End date: 30-06-2019
Budget in Euro
Overall: 1.974.750
ERDF Contribution: 1.434.757,5
IPA Contribution: 243.780
ENI Contribution: 0
Call number
Call 1
Priority
Environment and culture responsible Danube region
Specific objective
Improve preparedness for environmental risk management
Library
As soon as the project achieves an output, it will be published in this section.
Check the project webpage for more information
Partners
| | | | |
| --- | --- | --- | --- |
| Slovenian Environment Agency | Lead partner | | Slovenia |
| EODC Earth Observation Data Centre for Water Resources Monitoring GmbH | ERDF partner | | Austria |
| Global Change Research Institute CAS | ERDF partner | | Czech Republic |
| Hungarian Meteorological Service | ERDF partner | | Hungary |
| Vienna University of Technology | ERDF partner | | Austria |
Work Packages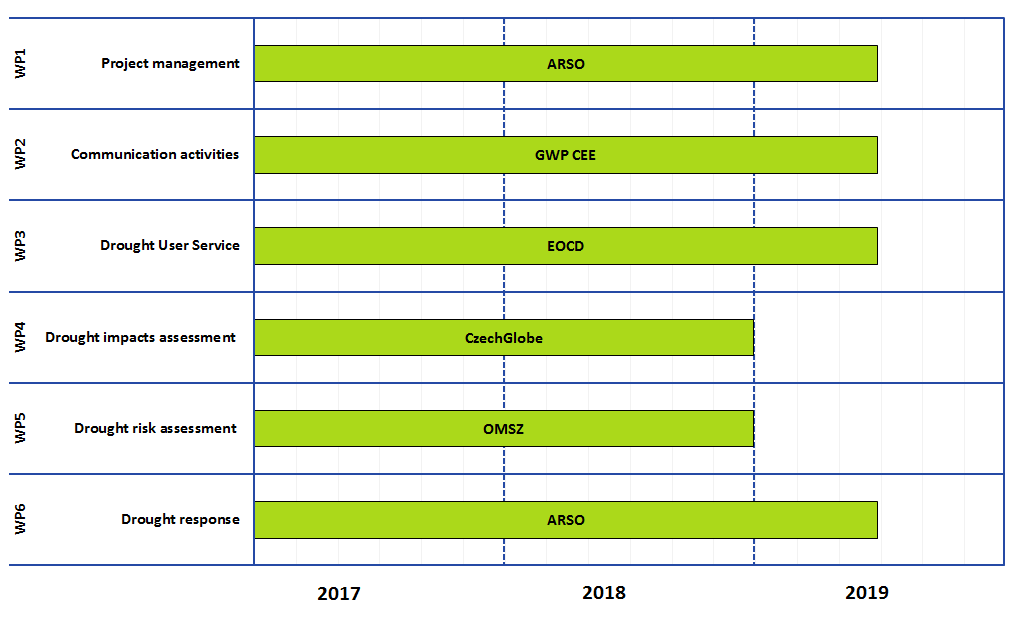 Deadlines
National contact points
Zita Bihari, Hungarian Meteorological Service, Budapest
Sándor Szalai, University of Szent István, Gödöllő
ASP - Ministry of Agricultural, Budapest
Project co-funded by European Union funds (ERDF, IPA)