Registration, sending abstract
Pre-registration and abstract submission deadline is 20 February.
Persons intending to participate on the meeting are required to pre-register by filling the registration form.
Publication of the papers in proceedings in the serial WMO/WCP/WCDMP is foreseen after the meeting.

Registration fee
The registration fee (including book of abstracts, coffee breaks, social event, proceedings) is 120 EUR. The payment of the registration can be processed by bank transfer to IBAN HU72-10004885-10002010-01004131, SWIFT CODE: MANEHUHB before 24 March or onsite.
Bank name: Magyar Államkincstár, Bank address: H-1139 Budapest, Váci út 7l., Hungary
Account Holder: Országos Meteorológiai Szolgálat, Account Holder address: H-1024 Budapest, Kitaibel Pál u. 1., Hungary
Please note that onsite registrations can only be processed in Hungarian Forints.
The attendance is free of charge only for participants of the "Climate monitoring products for Europe based on Surface in-situ Observations high-resolution gridded information products is generated in Copernicus Climate Change Service (C3S) Climate Data Store (CDS)" project.


---
9th Seminar for Homogenization and Quality Control in Climatological Databases and
4th Conference on Spatial Interpolation Techniques in Climatology and Meteorology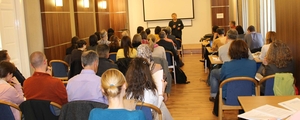 Registration, sending abstract